Far Infrared Saunas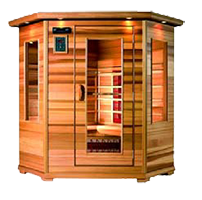 Infrared Saunas are fast becoming very popular for a variety of reasons including: the additional health benefits, lower cost of operation and maintenance, ease of set up and installation.
PPL Fitness provides a range of infrared radiant heat saunas to accommodate a variety of budgets, space requirement and size. Infrared Saunas come in easy to assemble kits, pre‐fabricated units or custom designed units that are built in place.
Infrared Heat Health Benefits
Reduce Inflammation
Decrease stress and fatigue
Burn up to 600 calories per-session
Remove toxins from body
Relief from muscle and joint pains
Ease joint stiffness
Boost immune system functions
Increase overall blood flow
Improve metabolism by increasing fluid circulation
Improve skin texture
Why Use Infrared Heat?
Softer radiant heat source (40% lower air temperature than traditional)
Quicker warm up time
Improved detoxification over traditional saunas
Stronger and deeper tissue penetration
Safe for all ages
Low energy usage
Gentle on skin
Decreased moisture build-up
Near ZERO maintenance
Far Infrared Sauna Features
Constant Concentrated Infrared
Because Far‐ Infrared Rays travel in a straight line, conventional Infrared heating elements cannot reach every part of your body. Infra‐Core's patented Far‐Infrared Heaters are coiled in a concave shape to allow for a much more concentrated range. In addition we use additional emitters to ensure a broader range of Far‐Infrared dispersion throughout the sauna. So no matter how you are positioned in a Infra‐Core Sauna, whether you are directly in front of a heater or not, your WHOLE BODY is effectively receiving the beneficial Far‐Infrared Rays.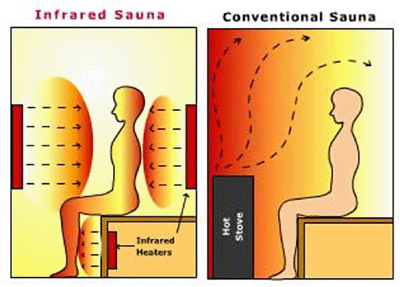 Pure Ceramic Heaters
Infra‐Core Sauna's patented pure ceramic Far‐Infrared heaters are more effective at lower temperatures and LOWER WATTAGES because ceramic requires much less energy to heat than steel. Also our Rapid Air System enhances Far‐Infrared penetration and detoxification process by cooling emitters for an even greater concentration of Far‐Infrared. (Patent Pending).
SS Grills
#304 Surgical Stainless Steel grills (felt coated grills may release gases).
Infra‐Core Control
Commander Control panel with a safety shut‐off timer is standard on all models. After the preset cycle is complete, the heaters turn off automatically.
Cedar Backrest
For additional protection, Infra‐Core adds a protective grid which doubles as a backrest to shield your skin from the heater grills.
Infra‐Core Technology
Using cutting edge technology. Infra‐Core Heaters produce Far‐Infrared light like the sun's, but without harmful Ultraviolet Rays (UL) or Electromagnetic Field (ELF) radiation. Infra‐Core Heaters emit a very safe Gauss reading.
Rapid Air System
Enhances Far Infrared penetration and detoxification process. (Patent Pending).
Euro‐Light Canopy
Euro‐light exterior canopy with low voltage lighting.
Medical Research & Benefits
Far Infrared saunas which use pure ceramic concave shape emitters are backed by a long history, extensive medical research and results....Does the new technology?